Razor clams here are the size of babies' hands
opened up to catch the midnight sun.
They roll in with the tide and lie on sand
full and fleshy, their tumbling journey done.
Above, a Russian church, its golden dome
a gleaming refuge for those who seek a home.
But eagles, ravens coast with eager eye
and clammers armed with spades and knives arrive –
clams bury downwards as the shadows loom
of wings or claws or the clammers spoon
a feast for those who have the craft to find
those rippled markings camouflaged like waves
in sand so fine which cossets them like babes –
babes of the sea who cry on land exposed
under cliff and cloud their little hands tight closed
while up above a Tlingit pastor's hands
are held in prayer for those who come to land
in Ninilchik, in Cook Inlet, across a glacial bay.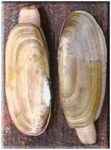 .
.

A member of the Tlingit tribe, from the Eagle Clan, was a temporary replacement in 2012 while awaiting a new orthodox priest for the parish of Ninilchik, Alaska. The history of the Orthodox Church of America began with the arrival of eight Russian Orthodox monks at Kodiak Island, Alaska in 1794.   The monks established a mission in Alaska, which was made a diocese of the Russian Orthodox Church a few years after the United States purchased Alaska from Russia in 1867.
See essay: Ninilchik, Alaska