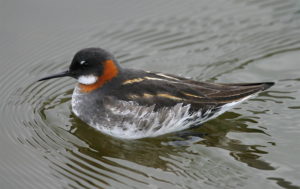 The Phalarope, like us, runs round on land
hunting for a living, and in marshes
snatches tidbits, swims and turns in whirlpools
round grasses, along the sand,
thigh-deep he wades, eager in the breeze
of early morning which sweeps away unease.
Then a curlew cries in the distant bay
to catch a dream before the break of day
remnants of a courtship unresolved
the awkward dance, his love fled in the cold.
Not so the Phalarope
the salty air strokes his well smoothed feathers,
returns to ruffle them like unwieldy weather,
awakening all the phantoms of the night –
but he has wings that glide like knives through strife
for what is that flash of red around his neck
but dammed-up memories of things he must forget?
while the curlew cries.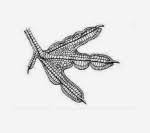 The Red-necked phalarope (in French Phalarope a bec etroit) is a wading bird which hunts both on land and water. Apart from the red plumage on the neck, which is brighter in the females (the females hunt for their male partner), it has lobed toes: its feet are only partially webbed.  It breeds mostly in the Arctic regions of North America and Eurasia; a few are said to breed in the Hebrides.  They are common in the summer in Alaska and Canada, and can also be seen on the East Coast of England in August and September, in France* on its autumnal migratory route towards Mauritania, South Africa, or the coast of Chile. It winters out at sea off central-western South America, in the Arabian Sea, and from central Indonesia to western Melanesia.